Celebrity Chef Art Smith Opens New Restaurant, 1500 South by Chef Art Smith, at Naples Bay Resort

Celebrity Chef Art Smith has opened a new restaurant, 1500 South by Chef Art Smith, in Naples Florida!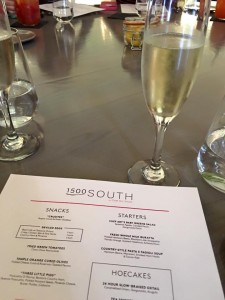 The Grand Opening for 1500 South by Chef Art Smith has finally arrived!  Under the culinary direction of celebrity Chef Art Smith, a two-time James Beard Award recipient, this highly anticipated restaurant is open today! Chef Art Smith worked 10 years as Oprah Winfrey's personal chef and served as chef to former Florida governors Bob Graham and Jeb Bush, he also has multiple restaurants around the country. Chef Art has authored several best-selling cookbooks that highlight the connection between family and food.
Few chefs have as firm a grasp on the power of food to strengthen ties between people and restore balance to hectic lifestyles as Chef Art Smith does. "Food is love, food is diplomacy and food is power," says Chef Smith with great authority.
What Kind of Food Will You Find Here?
1500 South by Chef Art Smith is sure to give your taste buds a surprise as it pairs Southern American Food with Italian accents to deliver a one-of-a-kind restaurant menu.
I personally had the pleasure of attending the tasting before the restaurant opened.  I literally tried every flavorful menu item and paired wine that completed it and have one word: Exceptional.  It's a unique menu and many things that I had tried were not something I would typically order, however they were excellent.  I'll give you an example. There were a variety of three types of deviled eggs, which I am not a big fan of, but hey, I was there and wanted to try everything.  Hands down, BEST eggs I've ever eaten! There was no egg taste at all, just a complex blend of all the right flavors and textures.  What I believe Chef Art does so well is take the comfort food we all know and love and puts his gourmet twist on it, marrying the flavors to create the best possible outcome.
This restaurant is known for its wine pairing, but if you are looking for a non alcoholic option, I would highly suggest the hand squeezed lemonades (strawberry, peach and blackberry, oh my!)   And let's not forget to mention the handmade pasta – I'd suggest not leaving before you try the creamy Mac and Cheese!
The Service
The service was 5 star.  The attentive and pleasant staff answered every menu question and their perfect timing made the night every enjoyable.
A Lavish Dining Experience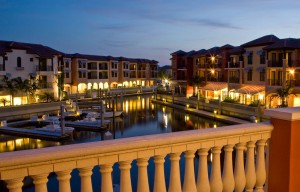 Perched on the west side of Naples Bay Resort, 1500 South overlooks the Naples Bay Marina.  The restaurant has gotten a face lift and it looks fantastic.  Sleek, white and modern with custom artwork and light fixtures create a bright and fun ambiance. There is also the option to dine under the twinkling lights outdoors and watch the yachts skim through the water, which truly makes you feels as if you are in Europe. Outside the back doors of 1500 South, you'll find a variety of outdoor furniture, cozy fire pits and overhead lighting where you can relax with a drink or coffee and overlook the calming water of Naples Bay.
Keep checking back on our blog to stay up to date on what's opening in our community.  For information about purchasing a condo at Naples Bay Resort and enjoying all the amenities, contact us at ann@myluxuryexpert.com or 239-580-7367