You Can Have it All in Olde Naples Florida, Even a White Picket Fence

Dreaming of living in Olde Naples Florida? These lavish homes are beyond picturesque.
I was viewing properties down in Olde Naples today and as I strolled through the silent streets, I couldn't help but take a few photos of the picturesque homes.  Mature trees and foliage line the avenues, the cool breeze on my face and beautifully maintained and kept houses are good for the soul.  There is a special quality about Naples where I find myself taking in the views and just smiling.  I love living here! Olde Naples never disappoints.  My appointments were early and people are walking the streets, riding their bikes and out for a leisurely walk with the dog.  You will find properties with character and spunk and of course even white picket fences!
Why Live in Olde Naples?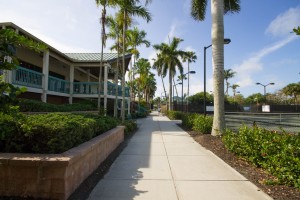 If you enjoy serenity yet appreciate walking or biking places then Olde Naples is the perfect locale for you.  My clients who live here talk about getting up early and walking on the beach or riding their bikes to Fifth Avenue South for a coffee.  Life in Olde Naples is laid back and on Florida time.  You always feel as if you're on vacation even when you aren't!  Let me tell you, it's a great feeling living in a place where the stresses of life don't get you down. If you're looking for a more active lifestyle, swing by Cambier Park, just one block from Fifth Avenue.  There is a large children's playground, which is always buzzing in the mornings and folks doing yoga or finishing their workouts in the park.  Is tennis more your style? The Art Allen Tennis Center is adjacent to Cambier Park and the courts are full of matches during the day.  Baseball fields, covered picnic areas and activities for the whole family can be found at Cambier Park.
Have you been looking for a home in Olde Naples?
Please contact us by phone or text at 239-776-0093 or email Ann at ann@myluxuryexpert.com, we can help you navigate your options just blocks from the beach and Fifth Avenue!