Wine Tasting Naples Florida January 2016

If you aren't attending Naples Winter Wine Festival this weekend, you can still celebrate by enjoying a wine tasting in Naples Florida with your friends! Decanted Wines, located on Pine Ridge Road, is hosting a Tuscan wine tasting featuring Castello di Querceto today, January 29, 2016.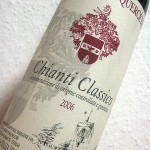 Atop a hill in the Comune di Greve in Chianti sits the Querceto estate, named after the nearby oak forest. Amidst the oaks and olive groves lie the vines that are the source of the superior wines of Castello di Querceto. For the Francois family, Castello di Querceto is not only a family legacy, but a family passion. Crafted using generations of winemaking experience, these wines are magnificent examples of the international taste profile of the Super Tuscan movement.
Cost is $10 per person, please RSVP to info@decantedwines.com or call (239) 434-1814.
Enjoy your wine this weekend, no matter where you celebrate!